Our Book
Creating Your Own Celebrity Wedding
7 Easy Steps to help you Style and Design on a Budget!
Thank you for visiting our Book page. Creating Your Own Celebrity Wedding is the highly anticipated first book by Bespoke Wedding Planner and Author Adora Lina A Moh in the 'Creating Wonderful Memories' Book Series.
Did you know that the average wedding in the UK costs around £18,000? (According to 'The Telegraph' article 22 May 2013) What if I could show you how to create a fabulous celebrity wedding with a budget of only £10,000?
Having been a Wedding Planner and Party designer for more than 13 years the most common thing I hear from brides to be is "I want my wedding to be fabulous, but we are on a budget. So what can I do, where, do I start...?"
Lorraine's Story
Lorraine is a 28 year old bride-to-be, who works in Tesco (Supermarket). With her wedding of 150 guests fast approaching she wants a vintage chic style celebrity wedding but only has a budget of 10k. What could she do? How can Lorraine afford the glitz and glamour just like the celebrities and still stick within her budget?
John and Mimi's Story
John is a 35 year old IT Engineer, who loves his beautiful fiancée. They met at his uncle's 10 year wedding anniversary. From across the banqueting hall and looking through the centrepieces their eyes met. It was love at first sight. Her name is Mimi. She was so beautiful from head to toe and John who had never been in love or even had a serious girlfriend previously was hooked! Their wedding date is set; they have big dreams for their special day.
The couple want this to be a day to remember for them and their 200 guests. John has a good job which pays quite well. But after the mortgage payments, car payments and credit card payments this has left little available cash for their wedding. The budget he set for their wedding was for 18k, but this was not working for Mimi at all!
Mimi had her heart set on a luxury, red carpet, VIP wedding. The only problem was John! He felt the cost of what she wanted was way over their budget. But he really wants to make her happy – after all this should be the best day of their lives and a start to building their lives together forever... One day Mimi met her friend Tanya whom she had not seen since her own wedding a few years ago. She remembered the talk around town about how fabulous Tanya's wedding was. She then asked Tanya how she created such a fabulous wedding all within budget. Tanya replied, 'With "WPA (Wedding Plan of Action)"'– she had learnt from an amazing book called "Creating Your Own celebrity Wedding". Mimi was so happy she went straight to buy the book.....
Tanya's Story
Tanya is a 26 year old university graduate and a bride-to-be. Her wedding date is set; it's a year from now. The day she's been waiting for since she was a little girl. Tanya has a taste for the finer things in life; she has always dreamed of a fabulously beautiful, pretty wedding, with her as centre of attention. Tanya loves all things luxury, after attending many stunning weddings. She is definitely sure she wants her wedding to stand out from the rest. Just like the A-class celebrities. The only problem is that their weddings start from £1000 per head... So what can she do? After toiling over this she came across a book called 'Creating your own celebrity wedding, 7 easy ways to help you style and design on a budget'. Tanya bought the book, which helped her to create the style she desired for her wedding, all within her budget. Tanya was so happy she had finally found her answer...
Can you relate to any of these case studies?.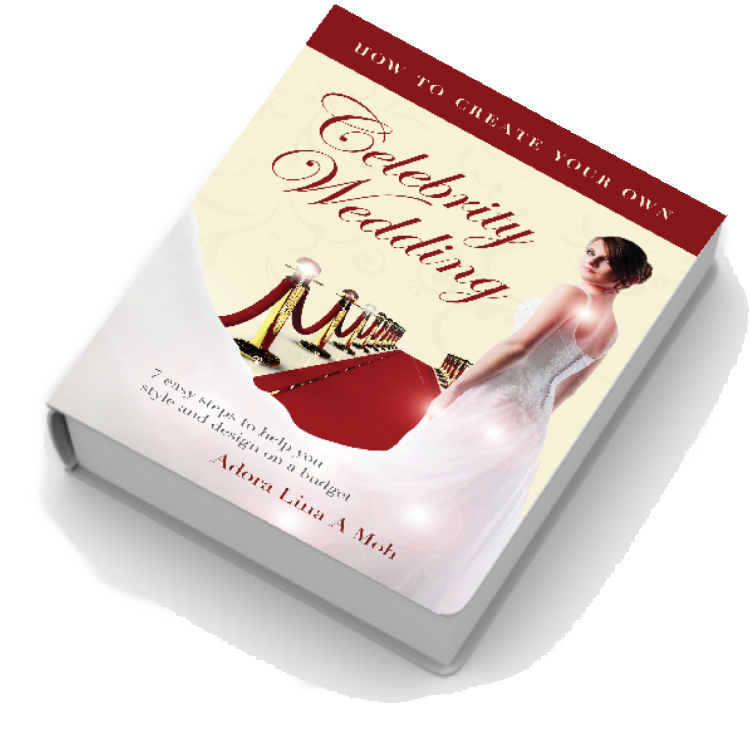 Some of the topics covered in
Creating Your Own Celebrity Wedding
Wedding Plan of Action (WPA) – 7 easy steps to help you create your own fabulous wedding within a realistic budget.
Capturing the essence behind the style and design of celebrity weddings throughout history.
Expand into the 'spirit of creativity'.
Expert money saving tips from world renowned leading Celebrity Wedding Planners and Wedding experts.